Since 2000, the Greater Hampton Roads Regional Crime Lines has gathered to honor local law enforcement officers, individuals, corporations and organizations that have helped make our community a safer place to live and work.
Nominations are now being accepted for the 2016 awards. Submissions must be received  not later than August 1, 2016.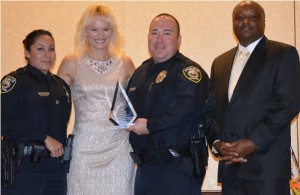 Top Cop Awards categories include:
Local Community Law Enforcement Professional (Top Cop)
Nominees from each participating Hampton Roads locale will be considered based on their contributions in making their community safer through consistent, salutary performance and dedication.
Corporation, Organization and Individual (Civilian)
Nominees in these categories will be considered based on how their sustained supportive efforts to make Hampton Roads a safer community in which to live and work. Civic, community and religious groups are eligible for the organization award.
Lifetime Achievement Award
Nominees will be considered based on outstanding leadership skills and personal achievement in direct support of crime solving that have, over a period of at least ten years, consistently contributed to making Hampton Roads a safer community.
Complete descriptions of the categories and criteria, as well as submission instructions can be downloaded HERE.
In additional to honoring local law enforcement and community support, the Top Cop Awards dinner and program raises revenue to provide the 1-888-LOCK-U-UP telephone service for the regional programs.
Greater Hampton Roads Regional Crime Lines, a non-profit charitable organization.  Please remember, the region's Crime Line and Crime Solvers programs are supported solely through contributions from private sources. Tax dollars do not support these programs.
Questions about the 2016 Top Cop Awards can be addressed to TopCop@888lockuup.com.